OUR SHOP
A Bit of Good From the Past, Standing the Test of Time.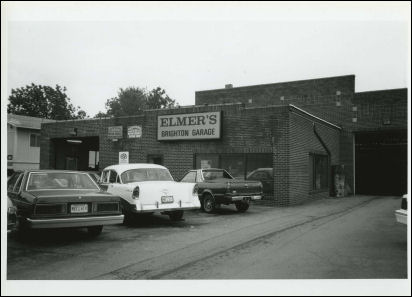 Elmer's Brighton Garage is a full-service preventive maintenance and auto repairs center in the Rochester, NY 14618 area, specializing in Car & Truck Care, Electronic Services, Electrical Services, General Services, Heating and Cooling Services, Engine & Transmission, Miscellaneous Services, Transmission Services, Undercar Services, and Brakes since 1932.
Situated on Monroe Avenue, Brighton's Main Street, Elmer's Garage has been providing services to motorists for almost eighty years. Its history is tied to the history of the avenue that has evolved from farmland to brickyard to residential and commercial buildings.
In the first half of the 1800s, the Twelve Corners area was a small commercial zone that offered services such as blacksmithing and horse-shoeing to the nearby farms. With the discovery of a vast supply of clay in central Brighton, a thriving brick and tile business operated along Monroe Avenue from Highland Avenue to almost the Twelve Corners. Large sheds, railroad cars, and worker housing lined both sides of the street. The Rochester Brick & Tile Company provided bricks and drainage tile for buildings all over the world. At the beginning of the twentieth century, as the raw material played out, the land became more valuable for houses and small businesses. A public trolley system provided transportation along Monroe Avenue from the city to Pittsford, making a home in the country a reality for city workers.
Developers began building the Home Acres subdivision in 1911. Roselawn and Bell-Aire followed soon after along with the Georgian Court, Bell-Aire, and Westminster Court apartment complexes. Contemporary to this period are the buildings that house Lippman's Kosher Market, Malek's Bakery, and Aldo's/Lee Gorfine, two-story buildings with businesses below and apartments above. In addition to the apartments and commercial construction, developers added substantial single-family houses. Monroe Avenue was a prime location with its mix of housing and service businesses.
The public transportation that provided adequate access from city to country lost its appeal when the private automobile came along. Cars offered access to any where, not just places along a set route, and the freedom to travel at will. Cars also required servicing with gasoline, tires, batteries, and repairs, so the 1920s and 1930s saw the establishment of service stations on Monroe Avenue. Lee & Elmer's Garage, on Union Street in Rochester in 1932, moved to Brighton, purchasing land that the business has occupied since the 1930s. In those early days Lee Irwin and Elmer De Hollander offered car repair as well as car sales and car inspections (on September 1, 1939 Monroe County began requiring inspection of brakes, headlights, windshield wipers, and wheel alignment). Close to their customers who lived in the neighborhood as well as accessible to the many drivers who traveled to and from Pittsford, Lee & Elmer's offered necessary services for the motoring public.
In 1942, the business became Elmer's Garage, the name that still appears on the old brick building. How many other businesses can claim an eighty-year heritage?
Courtsey of Mary Jo Lanphear, Town of Brighton Historian, 5 June 2010



Exceptional service! Took my vehicle in for service. I needed to leave the car for the day. Owner made sure I had a vehicle to use to get to work. He went above and beyond! In today's day and age you don't see that type of personal service much anymore, KUDOS to Elmer's Garage. Highly recommend. Price was in line with what he told me, explained everything to me that was done.
Bernadette
join our team
We are currently on the lookout for the following: